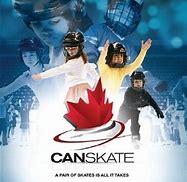 CANSKATE
CanSkate was developed by experts to teach the fundamentals of skating in a progressive manner. Designed for beginners of all ages, the focus is on fun, participation and basic skills development. Participants earn badges as skills are mastered. Skaters are taught in a group lesson format by an NCCP-Certified Professional Coach, assisted by trained Program Assistants (PAs). CanSkate is the development program to all other Skate Canada skating programs.
Skate Yorkton offers a selection of high caliber learn-to-skate programs that provide a solid foundation in skating fundamentals to aspiring young hockey players, speed skaters and recreational skaters alike.
It is the mission of our Club that these programs are offered in a positive and fun atmosphere that all can enjoy.
2019-20 Season - Winter 2020
Skaters can register for a 1 day or 2 day/week program as follows:
Mondays 5:45 - 6:30PM
Thursdays 6:45 - 7:30PM
Fundraising
Skate Yorkton requires members to fundraise to keep fees as low as possible. Any fundraising done is used to offset the cost of ice rental, which is our largest single expense. Families who do not wish to fundraise can choose the Buy-out option.
Fundraising commitments per skater are as follows: $250 in total product sales
Fundraising opportunities will include but not limited to: Moms Pantry, Meat Order & Purdy's Chocolates (TBD).
Please bring your $150 fundraising deposit cheque to the Skate Yorkton Office. Cheque is to be post-dated to 2020/03/01 and will not be cashed if fundraising commitment is met.
For families that choose NOT to fundraise, the Buy-Out fee per skater is: $150. Please add the buy-out fee to your registration cheque or E-transfer amount.
Skate Saskatchewan Lottery Book:
Registered skaters also sell a Skaters Lottery Ticket Book. Books are $100 (20 X $5/ticket).
Please drop off a $100 deposit cheque (post-dated to 2019/02/15) at the Skate Yorkton Office. Cheques will be returned when lottery book and money are handed in.
Registration and Payment Instructions:
Please note that if our system detects more than 30 mins of inactivity, your registration spots will no longer be reserved and you will need to begin again.
Payments: Skate Yorkton accepts payments by cheque OR E-Transfer only. Please bring ALL cheque(s) to the Skate Yorkton office.
E-Transfer payments: once the registration process is complete in Uplifter, log-in to your online banking and e-transfer your fees to finance.skateyorkton@sasktel.net.
Fundraising/Buy-out: all skaters must provide a fundraising deposit cheque (post-dated 2019-03-01) OR pay the buy-out fee in addition to their regular Registration fees. If buying out, buy-out fees can be included with your registration fees.
Lottery Books: all skaters must provide a lottery book deposit cheque (post-dated 2019-02-15) in the amount of $100 payable to Skate Yorkton.
Please remember to write your skaters name on all cheques and/or in the Comments section of your e-transfer. All cheques are to be made payable to Skate Yorkton and all fees must be paid in order for your skater to get on the ice.